When you decide to go shopping at Target stores, these Target RedCard credit card saves you about 5-percent every single time you are buying and making your payment in full every month, and you are using the debit card version that supports this feature.
Maybe you walk into a store to make a purchase and the cashier asks you if you want to save 10 percent after acquiring their credit card. Don't be in surprise a lot of people who have a Target credit card get huge percentages off their purchases
The Target Red debit card
Target Red Cards gives five percent every time you make purchases unlike cash rewards credit cards that pay one percent, or two percent back and for up to five percent on a limited number of goods purchased guess that a very good deal for its users right?
For example, if you spend $50 a month at Target, five percent of this amount will be is $30 a year. This transaction also qualifies you for free shipping on their online store at Target.com and extends your return period for an extra 30 days.
When you fill a prescriptions sheet at Target, you are awarded an additional five percent off for one day, for every two prescriptions sheets you fill a percent off will be added to your Target Red Card pharmacy rewards that mean extra savings for you.
Often this service may not be what you want but that does mean they are not advisable to use.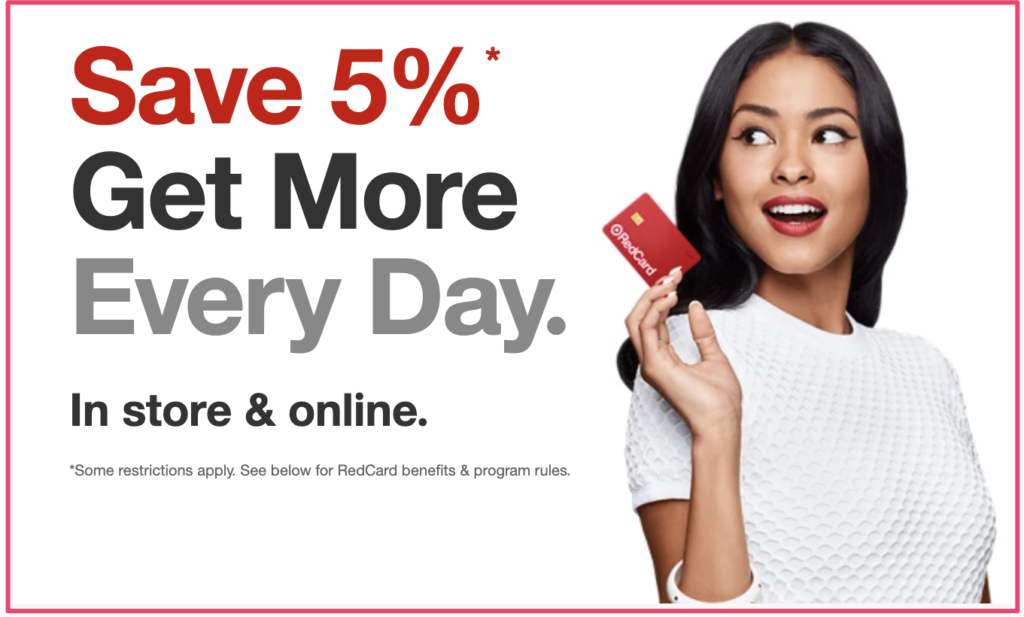 A lot of financial journals may criticize your debts and advise you to go for what you can pay for but life is not always rosy and for people who have limited sources of income may really not have a choice, so in conclusion; (what is good for may not always be good for another person; just like income streams differ too)
Target Red card offers an awesome service with this discount so if you are used to paying off your debts at the end of the month you have no reason why you are not using this card to enjoy these benefits
Target Red card has an APR (22.90 percent), if you buy a single product and decides to pay for one year, you should better get a financial intervention because the concept of this card service is better utilized by making multiple purchases.
If you don't have the requisite knowledge about Target Red Card credit cards or simply don't go down with the idea, you can still get a Target Red Debit Card alternatively.
It will still offer you a five percent discount and the store benefits because it will not charge for inter-switch service fee as others do for Visa or MasterCard's.
This card is normally linked with your bank account, you just need to swipe it and the funds come out directly from your linked checking account.
Which Purchases Qualify for 5% Off?
You'll get 5% off on all purchases from Target, Target.com, and Starbucks cafes located within Target stores, with the exception of the purchases below.
The 5% discount does not apply to the following purchases and services:
Previous purchases made before getting the card.
Prescriptions, over-the-counter items located behind the pharmacy counter, and clinic services at Target.
Target Optical™ eye exams (Target Optical products, such as glasses and contact lenses, do receive the 5% discount).
Certain restaurant merchants in Target stores, such as D'Amico & Sons Italian Kitchen and Pret A Manger.
Shipt membership fees.
Gift wrap and shipping and handling charges on Target.com purchases.
Wireless protection program purchases and deposits required by a mobile carrier.
Target gift cards and prepaid cards, and Stockpile, Gift of College, and lottery gift cards.
Target credit account payments, Target Debit Card cash back and cash advances on the Target Mastercard.
Where otherwise prohibited by law.
The Benefits
You'll get the same set of extra benefits with each card, which could help frequent Target shoppers save quite a bit of money through free shipping and sales.
Free two-day shipping: Get free two-day shipping on eligible purchases from Target.com. The order cutoff time is usually 12 p.m. local time in the destination to which you're shipping.
30-day extended returns: Cardholders will get an additional 30 days to make returns on purchases made with a REDcard. Most Target items have a return window of 90 days, so this would extend that to 120 days. But keep in mind that some items, like electronics, may have different return policies. This extension does not apply to Target Optical purchases, or any items designated non-returnable.
Anniversary bonus savings: Sign up for Target marketing emails to receive a 10% off coupon for Target purchases by email on your account anniversary. If you don't sign up for marketing emails, you won't get these coupons.
Early access offers: REDcard users will occasionally receive early access offers to Target events, promotions, and sales. These offers may be based on your previous purchases and location.
Exclusive extras: Cardholders will get opportunities for exclusive deals and discounts, only available when purchasing with a REDcard. Quantities are sometimes limited, and each REDcard user will usually be able to purchase a limited number of each item.
Load in the Target mobile wallet: You can add your REDcard credit or debit card to the Target mobile app, where you can use it for Target purchases. This is also an easy way to find early access and exclusive REDcard offers.
Chip-and-PIN capability: The Target REDcard credit and debit cards each use chip-and-PIN technology for better security. That means you'll need to enter a PIN to make purchases at Target (unless you're using a mobile wallet), rather than providing your signature.
Where Can I Use the Target REDcards?
The Target REDcard credit and debit cards can only be used at Target and Target.com.
The cards can be used at restaurants and services located within Target stores as well, but these purchases will usually not qualify for the 5% discount. The exception is Starbucks cafes in Target stores, which do qualify for the discount. See the list below for a full description of purchases that do not qualify.
Conclusion
So there you have it. Almost everything you need to know about Target REDcard Credit Card and Target REDcard debit card. You can as well find more information using Target customer care phone or by visiting their website to apply for the card.