The idea of going to the bank to queue up before cashing your check nowadays can be crazy to many people that's why questions like ''do Walmart cash personal checks'' may arise.
Well, we will answer your question but before then just get this straight going to a store like Walmart to cash a personal check is a really brilliant idea and will be more convenient even when it comes to working hours as banks close earlier than stores.
Walmart is not just called a store giant but has proved itself; it is currently an alternative bank for several people concerning financial services.
You will have a lot of reasons to patronize them because of cash backs, cashing checks and many other rewards and loyalties or even if you have received a check but don't have a bank account you can still cash it with Walmart that allows cash of two-party personal checks of up to $200.
Types of Checks That Walmart Cash?
Based on popular demand, Walmart has availed itself of cash checks for those with payroll checks, government checks, tax checks, cashiers' checks, insurance settlement checks, and retirement account disbursement checks.
What are Check Limits for Walmart?
Well, Walmart has made the money services available because, for people who need cash in an emergency or for any reason they don't want to go to the bank, there is a limit to the amount they can cash you.
Age grade for Walmart Cash Personal Checks is18-years, two-way personal checks are limited to $200 per check and other checks are limited to $5000-$7500 per check
Note: Users who have a Walmart Money card, like the Walmart reloadable prepaid card, simply load the amount written on the check-in card at their stores at a transaction fee of just $3.
You may also like: Walmart Check Cashing Limits And Fees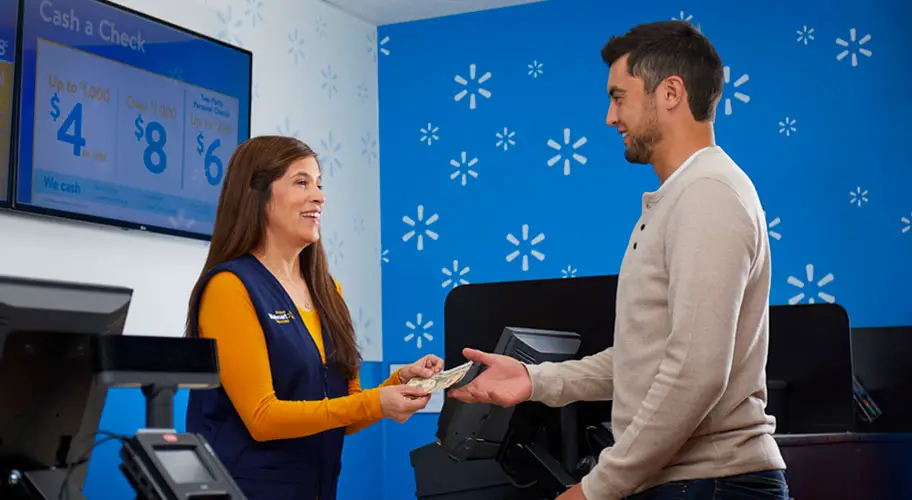 The process to Cash a Check at Walmart?
To cash your personal check at Walmart you need just a few processes to follow.
Below are the requirements;
After going to the Walmart store, you required to tender your check to the Money Service desk, with a valid government ID
Then you will have to wait for the Walmart representative to check and validate the check and ID then cash your check within minutes.
If you have a Walmart MoneyCard and wish to cash your cash they can simply load your Money card with the amount written on the check.
Walmart charges $4 for checks of $1000, a maximum of $8 for checks above $1000, maximum of $6 for the two-party personal checks of $200. You can check more cashing limits and fees here.
Another liberty of cashing a personal check at Walmart is you don't need to have a bank account with any bank or must not be reregistered with them.
Read also: 3 Ways to check your Walmart Visa Gift Card Balance
Why it is Necessary Open a Bank Account
If you depend only on e-wallets, and other piggy banks, you miss out on a lot of benefits and pay excess charges.
Below are the importance of a bank account opening
Direct Deposit: if you have a bank account, you can directly receive cash from your clients, friends, employers etc, without going to Walmart or any other place to cash your checks with little or no fee attached for the transaction.
Lower Check Cashing Fees: cashing a check at the bank is relatively cheaper than any other option; some financial institutions charge nothing for checking fees while some charge just a little depending on the bank.
 Easy Access to Your Money: You can have direct or easy access to your funds with your debit card, and easy access to online transactions without having to go and wait to cash a check before you proceed especially when you need cash for an emergency.
 Account Management: When you operate a bank account you can simply call your account manager to make funds transfers to stipulated accounts without you visiting your bank.
Better Access to Loans: when you operate an account with a particular bank you stand a better chance of accessing a loan to be able to help you finance a project at hand or intended one etc