We have explored extensively to bring to you all you need to know about the Belk Store Credit Card. Our review includes interest rates, benefits, rewards and other related credit card information to help you pick the right card.
Belk Department Store is best known for affordable modern southern stylish clothing, accessories, and home furnishings. The Store offers shoppers' qualitative rewards credit card that comes with other bonuses and benefits that is uncommon to many other credit cards.
Before making a decision to consider a Belk department store card, don't forget to compare to other rewards credit cards to select the right card for your needs.
How the Belk Credit Card Works
As many cards that are readily available offer a standard rewards program, the Belk card offers rewards and extra bonuses based on three different tiers.
These tiers are dependent on your annual spending, which can be valuable if you regularly shop at Belk stores. This means that, the volume of your shopping is a determinant force to earn you rewards and extra bonuses.
For example, the default level is the Rewards level which includes receipt-free returns and the rewards program where you get one point for every dollar you spend at Belk stores.
You can actually get $10 in Belk Reward Dollars anytime your purchases accumulate to 400 points, with this, you can use on future Belk purchases.
While spending at least $600 in a calendar year, such spending will guarantee you to the next level called Premier tier. You are entitled at this stage for everything in the Rewards tier, plus flex payment plans and other special offers.
Imagine your spending increases to $1,500 within a calendar year, you will then reach the top tier known as Elite, which includes the features of the other two tiers plus free shipping, 20% personal sale days of your choice, birthday coupons, and other exclusive savings events.
Benefits of Belk Store Credit Card
This card has no annual fee
It offers one point per dollar for all Belk purchases
Also offer of 400 points for $10 Belk Reward Dollars
The Advantage of Belk Rewards and other Rewards Credit Card
Belk Rewards vs. Other Rewards Credit Cards
Just like other cards offers, you can earn the equivalent of 2.5% back with your store card rewards programs, which isn't a bad rate though.
As a regular who shop at Belk stores, you not only earn points that you can redeem for future purchases, but you will possibly get to one of the upper tiers which that will provide more benefits and perks.
Though there are some disadvantages associated with this card, therefore be mindful while choosing Belk credit card over other cards that award the same purchases.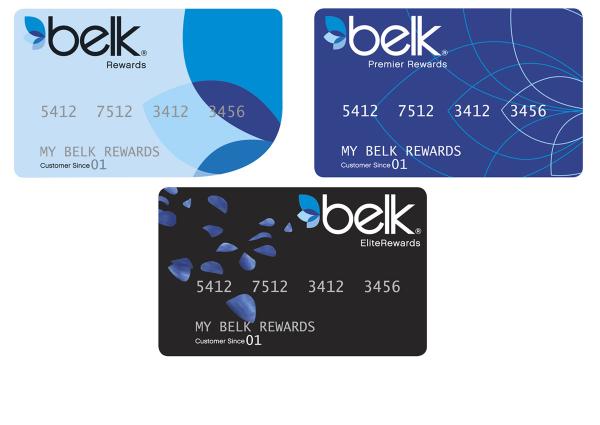 5% Cash Back at Belk Stores with U.S. Bank Cash+ Visa Signature
As stated above, there are other cards available that award more than you would receive with the Belk credit card. Awarding 5% cash back at department stores, including Belk stores is one of other extra benefits this card offers.
The rewards program do not only awards double the amount you would earn with the Belk card, but further, it also awards cash back that you can use towards any purchase, not just Belk purchases.
Interestingly, this card is considerable enough to also awards at least 1% cashback for other purchase you make with the card, allowing you to earn more cashback not minding the place where the card is used for shopping (outside Belk stores).
>>> You may also like: 5 Important Things about the Indigo Platinum Mastercard you Need to know
U.S. Bank Cash+ Visa Signature Card
Get 2% Cash Back with Blue Cash Everyday Card from American Express and Citi Double Cash
In comparison, though the 2% rate is slightly less than the rate you get while using the Belk credit card. Also, note that the award cashback can be used on any type of purchase when you redeem.
The awards all purchases you make with the card at 1%, and then you get another 1% cashback when you pay your bill.
On the other hand, the Blue Cash Everyday Card from American Express awards 2% cash back at U.S. department stores, which includes Belk stores.
Suffice to say here that, the advantage these cards have over the Belk card is not just the opportunity to spend your rewards on whatever you like, but also the ability to earn cashback on other purchases.
The ability to earn even 1% cash back on other types of purchases when cumulatively summed up, this can amount to a worth of hundreds of dollars by themselves, depending on your spending.
Cost of Using the Belk Rewards Credit Card
It will cost you much to use Belk Rewards Credit Card as many feared at first instance, this is because there is no annual fee for the Belks Rewards Credit Card, which is important when determining how much the rewards program will be to you.
With cards that charge annual fees, you have to weigh the value of the benefits and rewards you might earn against the cost of carrying the card.
However, there are many rewards credit cards available that do not necessarily charge annual fees, like the Citi Double Cash, U.S. Bank Cash+ Visa Signature, and the Blue Cash Everyday Card from American Express.
Belk Credit Card Interest Rate
One of the determinant cost considered while choosing a rewards credit card is the APR or interest rate. Just like many other store cards, the Belk Rewards Card is one of the easiest cards to qualify for, when you have a fair credit score, but it also carries a high APR.
This literally means, if you are a carrier of a balance from month to month, the amount of interest you will be charged to pay on your purchases will decrease the value of any rewards you earn.
Therefore, if you are a type with little or no capacity to often pay your balance in full every month, we recommend the best to select credit cards with the lowest APRs in order to get the most value.
Cards like the Citi Double Cash and Blue Cash Everyday Card from American Express typically offer much lower interest rates, depending on your creditworthiness.
In addition, many rewards cards also offer 0% introductory APRs for new cardholders, and such cards can save you quite a bit of money if you're planning a large purchase or balance transfer.
The Belk card do not only comes with a high APR, but it does not offer any special financing or any opportunities to save on interest either.
No Special Sign-Up Offer for New Cardholders
Haven made no provision for a 0% introductory APR, the Belk card also does not offer new cardholders any special sign-up bonus.
While some of the store credit cards at least offer a small discount on the first purchase you make with the new card. This is why other cards are recommended for users who have a culture.
Further, rewards credit cards often provide an opportunity to earn hundreds of dollars in cash back just for meeting a specific spending requirement. You don't get any of these special sign-up offers with the Belk credit card.
Verdict on the Belk Credit Card
The Belk cards come with a full packed and decent rewards rate and, if you happen to be a regular shopper, your chances are high to qualify for the tiers offering special offers, perks, and personal sale days.
These extra benefits can lead to bigger savings and increase the value of the card.
In addition, if your credit rating is low, be rest assured that store credit cards like the Belk card is the valuable tool that can help rebuild or build a positive credit rating for you.
However, if you qualify for other rewards cards, many other credit cards alternatives provide better long-term cashback opportunities and rewards for all your purchases – not just the ones you make at Belk stores.
Even if you choose a card with a lower rate of rewards, you may find that you get more value from the card simply because you can use it for all your purchases and redeem for cash back.
Applying for the Belk Card and Credit Score Needed
Belk credit card application is carried out online through the Belk credit card application and be assured that your application status will be communicated to you shortly.
For easy management of your account, just like with other credit cards, do yourself well by paying with the Belk credit card online.
To qualify for the Belk credit card like other store credit cards, if you have had credit problems in the past then it is for other rewards credit cards. For instance, you could qualify with a credit score in the low 600s while other rewards cards often require credit scores in the 700s.
The Belk Card is a good option for you provided if you are working on rebuilding or building your credit rating.
Also, if you have a lower credit score, you may find it difficult getting approved for other rewards credit cards.