Venmo is the fun and easy way to pay and get paid. The App is used by millions of people across the USA. It revolutionizes the way people make payments and how they get paid. Despite being very popular, not everyone knows how to use the App.
If you're wondering how Venmo works, then you've come to the right place. Using Venmo is super easy and probably much more than you think.
This post will explore all the features you need to know to make the most of Venmo App services.
Venmo is, without a doubt, one of the most convenient payment services out there and can be used with an iPhone or Android devices.
Venmo's strength lies in the ability to send and receive money in seconds with a few simple steps or actions.
As already mentioned, the ease of use of Venmo is fantastic. Learning to use it is really simple and takes very little time and reading this post.
Let's move on to understand how you can best use Venmo App.
How to Pay with Venmo App
Most online and non-online services, including Uber and Amazon, provide the option to pay via Venmo within their app.
To take advantage of this option, you need to download and install the Venmo app on your mobile phone. 
As you will see below, it is the only possible way to make in-app purchases using the Venmo App.
Now let's go into detail. Depending on how and where you are making the payment, there are different methods by which you can make the payment using the Venmo App:
Transmit Money Using the Venmo App
Step #1. Download, install and open the Venmo app on your device.
Step #2. Once you open the app, you will see a symbol resembling a notepad and a pen with a "$" sign on it. Here, this button here is the payment button.
Step #3. After tapping the payment button, you will see that a text box will open.
Step. #4. At this point, you will need to enter the username of the person you want to send money to. Alternatively, if you already have that person on your friends' list, you can select them directly from there.
Step #5. Now you will need to enter the amount you want to send. In addition to the amount to be sent, you can also write a description of what you are going to pay.
Step #6. Since the app works closely with social networks, you can choose whether to make the transaction visible to your friends or not.
Step #7. Once you have set up each payment preference, tap the "Pay" button.
Step #8. Finally, you will have to select the payment method you prefer: you can choose between a credit card, a debit card, or a bank account linked to your Venmo.
You may also like: How To Transfer Money From Venmo to Cash App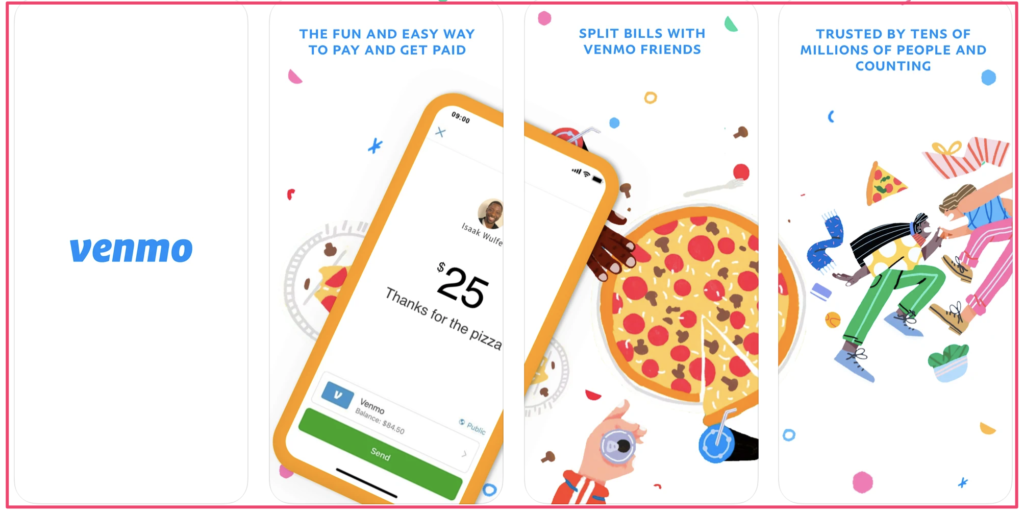 Make a Purchase on A Mobile Browser with Venmo
If there is a PayPal Button:
The most common option that you will face, if you make purchases on a mobile browser, is to pay through PayPal, using Venmo, by simply clicking on the PayPal button on the payment page.
Normally, if the merchant allows it, the Venmo payment option will appear on the screen after the button.
Also, in this case, app installation is required.
If There is a Venmo Button:
First, you will need to tap the button depicting the Venmo icon. On the next screen, you should see the payment page directly.
Keep in mind that sometimes you may need to link your Venmo account to that of the merchant. However, this is not always the case: you will often checkout without taking any additional action.
Make a Purchase in Another App with Venmo
Step #1. If you're buying something at the time, the merchant's app has the Venmo button in its checkout section, and you can tap it to pay through Venmo.
Step #2. You'll see a message requesting permission to link your Venmo account to the merchant's one.
Step #3. Once the authorization is granted, it will be possible to pay for the purchase made by navigating through the instructions similar to those explained in the first part of the post.
Step #4. After making your purchase, if you want to disconnect your account from the merchant, simply tap "Disconnect" after tapping the merchant name via the "Connected Merchants" menu in the app's Settings.
Also read: Guide on How Does Popmoney Work
How to Transfer Money from Venmo To A Bank Account?
To put some money from your Venmo Account to your bank, you'll quickly have to follow these steps:
Step #1. Open the Venmo app on your phone.
Step #2. Tap the hamburger menu icon in the upper left corner of the screen.
Step #3. Choose the "Transfer to bank" option.
Step #4. On the next screen, you will need to enter the amount you wish to transfer.
Step #5. Finally, you need to choose the transfer method and confirm the transfer by selecting the "Transfer" option.
Why use Venmo?
Because it's the money app for splitting the cost of almost anything—right then, right there.
Because it makes settling up feel like catching up.
Because you can add a note to each payment to remember the moments, not the money.
What do people use Venmo for? Plenty of things, like:
Pay for Meals
Split the group dinner tab without the napkin math.
Pay for Rent
Transfer money to roomies for your share of rent and utilities.
Activities
Settle up for fun stuff like concert tix and road trips.
Surprises
Send a penny to say hi, or 5 bucks for good luck.
Conclusion
There you have it, It's actually very easy to use Venmo to make payments of bills, transfers or making purchases on eCommerce stores. It makes it easy and convenient to make payments without involving much resources and time.
Hope this article help you understand how to use Venmo to make payments.