Looking fo a step by step guide to activate cash app card? Here you are!!
Cash App is a phenomena app for sending and receiving funds. It has made it easy for its users to pay bills and send money to business partners, friends, and families.
Cash App Card can be linked to your Cash App balance. This versatile chipped device is used anywhere card transactions are allowed, either for online payments or store shopping. so knowing how to activate a cash app card will go a long way.
It is incredibly easy to use, but first, before you can carry out any transaction with this form of payment, you are obliged to activate your Cash App card. This is a recent feature that allows you to perform variant payments for your businesses at a low service fee.
It is essential to link your Cash App Card to your Cash App for ease of payment, avoid the risk of the dead phone when you want to transact, and its difference from regular allowable bank debit cards.
Acquiring Cash App Card
Before you can apply for a ''Cash App Card,'' you will first download the App from Google Play store or iTunes store.
Also, have it in mind that you must be 18-years and above since it requires you to use a bank account.
Before you start any process with Cash App first, you will download the App before any registrations.
All Registration Processes are Free
If you are acquiring a new Cash App debit card, open the App on your device screen, click on Cash Card, and tap Get Cash Card.
You will then be prompted to verify your Identity then, and you will also be asked for a shipping address.
Lastly, you will be prompted to sign a symbol that will be etched on your card with the use of a laser.
You may also like: How to put money on Cash App Card
Cash App Card Activation with a QR Code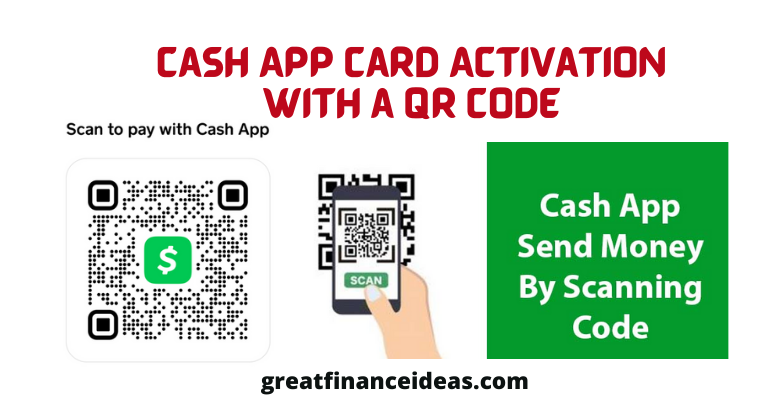 After receiving your Cash App Debit card, which normally comes with a QR code, you will need to activate your card using the QR code with the following listed steps
1. Open the Cash App you installed on your phone.
2. Click on Balance Amount on the homepage of your screen and click "Cash & Btc" to top your balance
3. Find and click on the picture of your Cash App from your screen and look for the "Scan QR Code" button and tap it.
4. The Cash App will request permission to use your phone's camera and accept by clicking "OK."
5. Upon receiving, take your phone's camera close to the QR Code that was given to you, place your phone above the QR code and scan the information, and yes, your account is activated.
Read also: 2 Best Ways to Activate Global Cash Card
How to Activate Cash App Card Without A QR Code?
If you don't want to activate your Cash App debit card with the QR Code following these steps
Open the Cash App you installed on your phone and tap the Account Balance button
Click on ActivateThen look for the Help button and click on it is usually located at the bottom end of the screen
Input your card Cash App CVV number and the card's Expiry Date and click ACTIVATE
And your card is ACTIVATED with these simple steps
If you need more clarifications, you can still reach Cash App Customer Service with 1-855-351-2274, or visit their official website at cash.app/help.
Conclusion
Cash has made it very easy to send money among friends and family members. However, many people do not know how to use all the functions and make sending and receiving money easy for them. We put up these guides to help people who still need basic knowledge on using these money Apps.
I hope this too helps.