In this post, you will learn all the important information you need to know about how Sephora Online Gift Card work plus other vital information you need to make the most of the card.
Considered as one of the beauty leading digital gift card retailers, Sephora has over 51 years established itself with the best brand in makeup, skincare, fragrance, and haircare.
It has boosted over 13,000 products and 500 brands in its name. Today, Sephora has over 360 retail locations across North America.
It offers people of diverse cultures and lifestyle arrays of beauty products either as a birthday gift or for personal use. While the gift cards are exclusively US-based and known for exceptional services, so also can only be redeemed at merchandise in US Sephora stores, Sephora.com or US orders, the US Sephora App, or at the insider of JCPenney stores that serves as its partner.
These eGift cards come with monetary value and in case you need the Sephora product, you may purchase this gift card on GiftCards.com and further same at any Sephora store or online at www.sephora.com.
A trial will definitely convince you of our exceptional services and amazing product that are well-packaged for you, family, and relations.
What Can You Buy With A Sephora Gift Card
Sephora has a fully loaded list of makeup, skincare, fragrance, and hair care products for the consumption of its existing and potential buyers. Whichever product you think of that can make you scent good, look charming, appear gorgeous and appealing, Sephora is the answer.
All you need to do is to make a purchase by presenting your eGift card at checkout, and you'll be on your way! You can even opt to receive your receipt via email delivery for ease of purchase. You are at liberty to even test the product before purchase.
Where To Buy Sephora Gift Card
As an established beauty retailer with over five decades' experience in beauty products operation with more than 360 store location across the United States and other countries, Sephora gift cards come with a great deal and discount which made them affordable (with the highest denomination of $500) and readily available at Sephora, online stores and traditional retailers including its partners JCPenney stores.
Other sites housed under Sephora that guarantee you cashback on your purchases are MyGiftCardsPlus and Ebates. Ebates earn 4% cashback and often there are promotional periods where it goes up to 10-15%.
The good news is that the Sephora gift card comes with no additional fee and there is no expiring date on the gift cards.
You may also like: The Chipotle Gift Card: Complete Review
Can You Use Sephora Gift Cards In-Store And Online?
Worry no more for Sephora got you covered hence its eGift card can be redeemed only for merchandise sold in United State, Sephora store, online (Sephora.com), or through any of our catalogs.
The good news that accompanies this gift card is, while your transaction record can be checked online and in any Sephora store, the card doesn't have an expiring date.
Are There Any Restrictions When Using Sephora Gift Cards
This may sound like a restriction, though it is not as perceived, Sephora has over 300 stores disperse across United State, if your nearby store location does not have in stock the product you need at that particular time of visit for purchases, you have to check back into the site for inventory update. Meaning your next visit purchase could be approved successfully.
How Can You Check Your Sephora Balance?
Every cardholder at one point or the other may wish to know his/her worth hence the gift card can be quantified into a monetary value. The process of checking Sephora card balance is easier and can either be done using Sephora mobile app.
You just need your 16-digit gift card number and PIN located on the back of the card or by visiting any Sephora store and the cashier can help check your balance.
Another alternative means of accessing your Sephora balance is with Metabank or better still, you can call Sephora at 1-888-860-7897.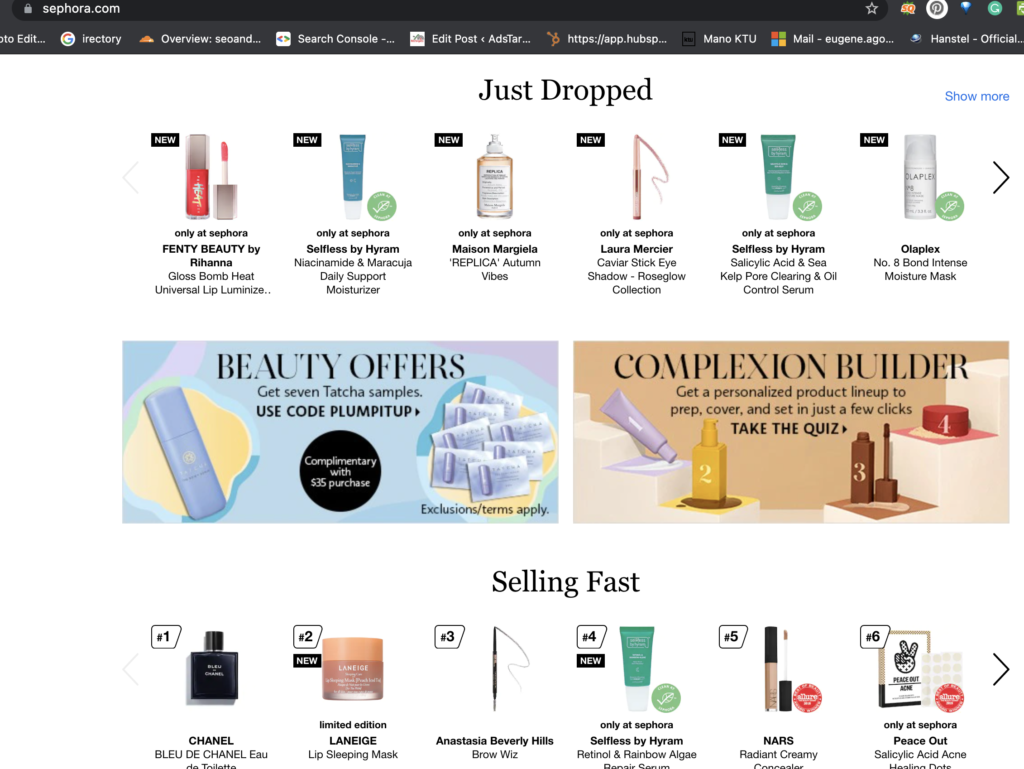 How are Sephora eGift Cards Delivered
As it is easier to get a Sephora gift card, so also it is to deliver. As per the delivery date you choose, an email is sent from GiftCards.com to the recipient informing them of your gift, with a link to retrieve it online.
The link in the email goes to a page showing Sephora eGift Card you created, its value, and the eGift Card number. This page also gives simple instructions for redeeming the eGift Card.
Failure to acknowledge the email sent to you, you are to check also Sephora's gift card FAQ page for further questions. You can call Customer Service for assistance at 877-944-3822.
Check out also: Things To Know About The Costco Anywhere Visa Card
How Can I Purchase Sephora Gift Cards
To ease transactions and accommodate people from all works of life willing to patronize Sephora product, our method of making payments at the Sephora includes Visa, MasterCard, Discover, and American Express credit and debit cards registered to the United States addresses hence these products are exclusively offered to United States residents.
What If My Sephora eGift Card Is Lost Or Stolen
We at Sephora are duty-bound to protect and secure your gift card. As soon as it is discovered that your gift card is missing, do yourself good and contact Customer Service immediately and ensure to provide as much detailed information as possible if your card is lost or stolen.
Are Sephora eGift Cards Refundable
There are terms and conditions guiding our operation, we don't make refunds once Sephora eGift Card has been e-mailed. However, our Customer Service is always on hand to give the needed assistance in addressing issues arising from the intended recipient not receiving the e-card or accidentally deleted mail containing the same.
Wrapping up
We provide the best possible beauty service through a team of specialized professionals on the best techniques and application of the beauty product in order to add value to skincare, makeup, fragrance, and haircare.
Sephora gift cards are truly the perfect gift for you and your love ones hence it offers you product quality and discount.