Some stores and retailers have made their own cards to avoid unwanted cost or sanctions for some mistakes which may be incurred in using other company's cards – although sometimes producers make cards due to preference some of the cards have better potentials than others so let's talk about the TJX Rewards Platinum MasterCard.
TJX Reward credit is given by Synchrony Bank
Now let's see how this card works.
The TJX rewards cards (TJX Rewards Platinum MasterCard)
TJX Reward Platinum MasterCard and TJX Rewards World MasterCard have awarded 5 points to you once you transact at any of their mother stores and these 5 points equivalent to $1, also it awards a single point for each dollar spent where other MasterCard are allowed plus 1000 which is equivalent to  $10 certificate.
Included are zero annual fee attached, with an APR of 26.99%, Late Fees and Penalties of $35 and your must put this in mind.
Here is the percentage analysis of TJX Rewards Platinum Card and TJX Rewards World Card Fees
APR has a percentage of 26.99.
Cash Advance APR has a percentage of 29.99%.
Cash Advance Transaction Fee has a percentage of $10 or 4% of each cash advance amount.
Late Fee has zero percentage fee.
>>>See how you can apply for the rewards credits cards: How to Apply for TJX Rewards Credit Cards
TJX Rewards Credit Card offers 5 points per dollar spent at TJX mother stores 1,000 points equals' $10 reward certificate, with an annual fee attachment of APR of 26.99% (variable) Late Fees and Penalties of $35
TJX Rewards Platinum Card and TJX Rewards World Card
Note that any place MasterCards are accepted you are rewarded $1 for each point you earn,
Here is list of TJX mother stores
Tjmaxx.com & T.J.Maxx
Marshalls
Sierra Trading Post & sierratradingpost.com
Homesense & HomeGoods
Once a cardholder earns 1,000 or 2,000 points (depending on your preference), these points are automatically redeemed for a $10 or $20 reward certificate. The reward certificate is only valid for use at T.J.Maxx and its affiliate stores (see above), either in-store or online.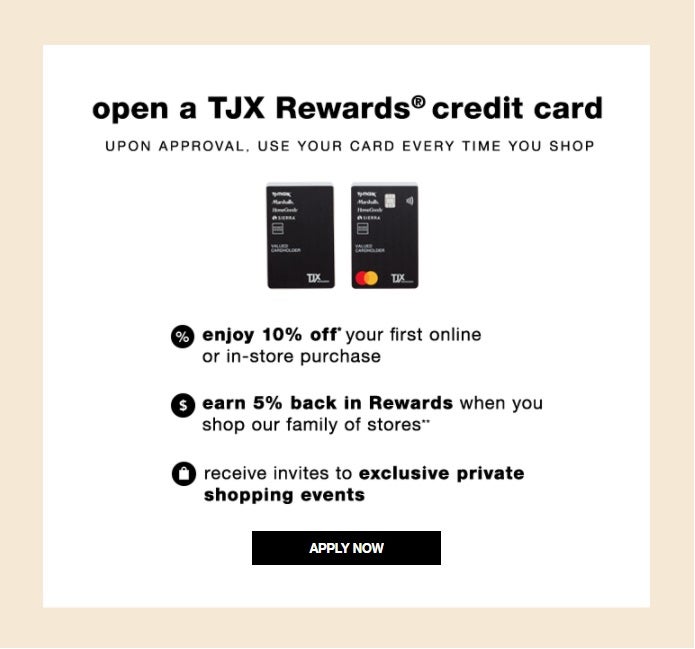 TJX Rewards Card
TJX reward card is given once you have a fair credit.
Here are some similarities and differences of TJX Reward Platinum card and TJX Rewards World card:
They have zero annual fees.
Sanction and fees for the customer are the same as MasterCard holders.  
You get a 5times number of points if you transact with a TJX family of stores.
TJX reward cards work only in the TJX family of stores.
Some Features of the TJX Rewards Credit Cards
TJX Rewards Platinum MasterCard
TJX Rewards World Card
I cannot categorically list the process of obtaining a TJX card, they give out this card only to eligible customers, top shoppers and shoppers who patronize their mother shops frequently get qualified automatically once you pass these criteria.
TJX Rewards World card benefits are same as that of TJX Rewards Platinum card,
Personal travel advisor and 10% luxury home-sharing plus Air, cruise, car programs and priceless Cities.
Preferred restaurant access.
Exclusive Priceless Cities surprises.
Contactless payment technology.
Exclusive golf privileges.
Complimentary cell phone insurance.
Fees and Drawbacks on TJX Rewards Credit Cards
Fees and drawbacks on TJX Reward cards are usually very high.
Make sure you review these fees and think about them before starting anything concerning these cards because a lot of incidents have reported where these cardholders were never been given their due rewards because their accounts go suspended, rewards certificates issues, dropped credit scores related issues and bad customer care services.
These card holders can only use their rewards at TJX family stores, so be guided about this.