Wells Fargo is not a new name in the finance sector it is arguably one of the biggest and best financial institutions in the world presently.
Wells Fargo offers not just commercial banking financial services but cards to tens of thousands of people which also includes security for their card users and is most recommended for people with poor or limited credit scores.
But the Wells Fargo Propel American Express card is recommended for people with good and excellent credit score
Apply for Wells Fargo Credit Card Online
Below are the steps to follow and apply for a Wells Fargo Credit Card Online.
Go to their official website at www.wellsfargo.com.
Navigate to "Find a Credit Card" and click on it.
Choose the card type, (click on "All Cards" to compare all your options to check and weigh your options)
Click on Apply Now.
Fill in your first and last name, your address, Date of birth, phone number, email address, and Social Security number (SSN).
Select you citizenship and type your mother's maiden name.
Tap on "Continue" and follow the given instructions to complete your application.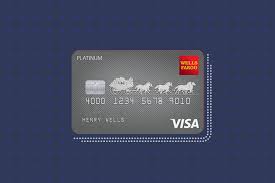 Other Ways to Apply for Wells Fargo Credit Card
Below is how to complete a Wells Fargo credit card application after receiving a mail offer to do so;
Visit their official website and navigate down
Click on "Respond to an Offer"option.
You will be redirected to another page where you will input the reservation number of your offer.
Click on the notice "Continue"
Fill in your required info as instructed and other to complete your Wells Fargo mail offer online credit card activation.
Wells Fargo Rewards
Wells Fargo Propel credit cardholders gain from the offer of 30,000-bonus-points when they purchase with up to $3,000 for the first three months of owning the card.
For other services, you pay for gas, flights, hotel, car rental, and streaming services you will be given a trice of these benefits and one point on all other purchases.
For the Wells Fargo Cash Wise Visa Credit Cardholders, they enjoy 1.5% cashback for all purchases, if you purchase for the first month with up to $1000 with your  Wells Fargo Cash Wise Visa Credit Card, you are given $200 in cash rewards.
You may also like: How to Make a Wells Fargo Credit Card Payment
Other benefits of Wells Fargo Credit Card.
The local US bank was founded in 1852, has a lot of benefits combined with the other unique products they offer.
Below are the extra smiles Wells Fargo put on the cardholders' faces.
Spending Report: This function offers Wells Fargo credit card user reports on payments, income, debits and withdrawals done on your account. This on the order hand gives the Wells Fargo credit card holder a general overview of the financial activities done on his/her account.
Budget Watch: this wells fargo credit feature allows card holders to see their account expenses so that they can compare and contrast their account balance and budgets in order to create a suitable budget, it is updated every working day.
Advance access: this feature is applicable to the Wells Fargo Propel American Express card holders, it gives advance access to theatre and special event tickets on Presales on the American Express platform.
Go Far Rewards this option allows some Wells Fargo credit card holders to redeem their go far rewards inform of cash, gift cards, merchandise, and digital accesses and aesses to online auctions e.g sport events, concerts tickets, flights, vacation etc. And this go far rewards allows the card holder to to use their rewards points and pay wells fargo owned debts.
Wells fargo signature visa card offers higher redemption rates for airfare, offers 50% extra point value when redeemed for airfare. 20000 points is equal to $300 airfare.
Share rewards this feature allows Wells Fargo credit card rewards to be shared to another persons and some organizations like American red cross.
Automatic cash back redemptions this feature permits the Wells Fargo credit rewarded points to be auto paid deposited to the user's savings account.
Cell phone protection: This one offers about $600 twice a year on lost or damaged phones to eligible users who deposit $25 monthly. Offers may also insurance on damaged auto collision.
Roadside assistance program includes five miles, tire changing, jump-starting, lockout service fuel delivery which cost up to $69.95 for every service rendered.
Travel services, emergency assistance services, Travel accident insurance of about $1M, and Lost luggage reimbursement which may cover up to $3000 and $2000 for (NY residents ) among others.
Wells Fargo Credit Card FAQs
Can you add an authorized user to my credit card?
Yes, you can add a user to your credit card after logging into your account.  This is to ascertain you are responsible for your actions and the second user's expenses.
Read also: Guide To Activate A Wells Fargo Card (Debit and Credit Card)
APR for a Wells Fargo credit card ranges from what?
Wells Fargo APRs are different depending on the credit card you hold and credit history, it ranges from 14.24% to 26.74%.
What credit score do you need for a Walmart credit card?
Wells Fargo's credit score must be from the score of 640 and above.
Does Wells Fargo have a Balance Transfer fee, and how much balance transfer fee?
Wells Fargo cardholders face a 5% charge or $5, whichever is higher.
What is the amount charged for a late fee?
It is $37 that Wells Fargo charges for overdue fee payments.
How do I track my rewards?
Wells Fargo reward tracking can be done with this number 1-877-517-13-58, or via the user's online account.
Was this article helpful?